2.03 MB •
español
RESEARCH ARTICLE
Domestic Space in Village Occupations in the North of the Calchaqui Valley (Salta, Argentina)
María Clara Rivolta, Jorge Esteban Cabral Ortiz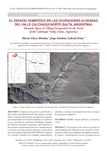 Abstract
The purpose of this work is to provide an understanding of the Salvatierra site, located in Cachi, Argentina, based on archaeological investigation of domestic contexts. Considering this research to provide some of the earliest evidence of open-air sites in the Early Formative Period (3500-2400 BP), we describe the process of discovery, as well as the recovered material elements and approaches to interpreting the architectural structures present at the site. Finally, we provide the results of radiocarbon analysis and discuss the correlation of the site to a broader regional perspective.
Keywords
Households, Formative Period, Cachi.
Cite as
Rivolta, M. C., J. E. Cabral Ortiz. 2017.
El espacio doméstico en las ocupaciones aldeanas del valle Calchaquí Norte (Salta, Argentina).
Arqueología Iberoamericana
36: 66-78.
http://purl.org/aia/3610
.
Publication date: December 1, 2017.