1.25 MB •
español
RESEARCH ARTICLE
Maya Hieroglyphic Monument from Xkombec, Campeche: A Revision
Philipp Galeev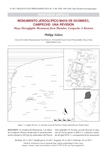 Abstract
Recent analysis of the epigraphy on Monument 1 from Xkombec indicates that the monument can be dated to A.D. 866, not to the mid-8th century as was previously argued. This new date marks Monument 1 as contemporary to the monuments at Xcalumkin and other neighboring Puuc sites. According to the text contained on Monument 1, political organization of Xkombec was similar to that of other Puuc centers. The association between these two centers may indicate that members of the noble house at Xkombec (Xok Tun and his son B'ahlam) may have been related to the nobility of Xcalumkin.
Keywords
Maya Lowlands, Puuc, Xkombec, monumental sculpture, Maya epigraphy.
Cite as
Galeev, P. 2017.
Monumento jeroglífico maya de Xkombec, Campeche: una revisión.
Arqueología Iberoamericana
36: 79-86.
http://purl.org/aia/3611
.
Publication date: December 20, 2017.