812 KB •
español
RESEARCH ADVANCE
Corinth and the Fluctuations of Greek Economy during the 5th Century BC
Pascual Izquierdo-Egea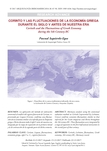 Abstract
Mortuary analysis using the contextual valuation method at Corinth (represented by Lechaion, Greece) confirms economic fluctuations similar to that inferred for the Greek Ampurias and Iberia throughout the 5th century BC. These fluctuations were integrated by a stage of expansion in the first half and of contraction in the second part of that century.
Keywords
Corinth, Lechaion, fluctuations, Greek economy, 5th century BC, Mortuary record.
Cite as
Izquierdo-Egea, P. 2017.
Corinto y las fluctuaciones de la economía griega durante el siglo V antes de nuestra era.
Arqueología Iberoamericana
36: 87-96.
http://purl.org/aia/3612
.
Publication date: December 22, 2017.