2.27 MB •
español
RESEARCH ADVANCE
Archaeological Landscapes Analysis of Basin Viewshed at the Puruha Site of Collay
Danilo Fabián Mejía Calderón, Pedro A. Carretero Poblete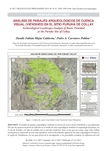 Abstract
The study of archaeological landscapes using viewshed analysis is a GIS application that has been a turning point in the study of archaeological sites through landscape archaeology. In the case of Ecuador, this type of study is in an incipient phase. For the case that concerns us, it emerges as an initial work for the realization of more specific ones, such as the spatial distribution of Puruhá archaeological sites in the Chimborazo region. In this prior investigation step, we have attempted to corroborate the influence of the ceremonial/ritual site of Collay on other sites of its environment and the surroundings of the city of Riobamba, as well as access to supplies and access routes.
Keywords
Collay, Riobamba, Archaeology, GIS, Viewshed.
Cite as
Mejía Calderón, D. F., P. A. Carretero Poblete. 2017.
Análisis de paisajes arqueológicos de cuenca visual (
viewshed
) en el sitio Puruhá de Collay.
Arqueología Iberoamericana
36: 43-47.
http://purl.org/aia/366
.
Publication date: November 17, 2017.