1.14 MB •
português
RESEARCH ADVANCE
Ferruginous Species in Mineral Pigments from the Pedra do Atlas Archaeological Site
Luis Carlos Duarte Cavalcante, Victor Hugo Gomes Tostes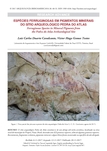 Abstract
The Pedra do Atlas archaeological site is a sandstone shelter, located in the rural area of the municipality of Piripiri, Piauí, Brazil, decorated with 423 rupestrian paintings, as well as some engravings. Recently, ceramic fragments, mineral pigments and some lithic artifacts were found on the surface of the sheltered soil. Samples of the reddish mineral pigments were analyzed by energy dispersive X-ray fluorescence (EDXRF), Fourier-transform infrared spectroscopy (FTIR) and 57Fe Mössbauer spectroscopy, aiming to determine the elemental chemical composition and to identify the ferruginous species of these pictorial materials. The iron contents for the ochres, as determined by EDXRF, expressed as Fe2O3, is ~56 to ~60 mass%. From the Mössbauer spectra, the hematite (αFe2O3) was unequivocally identified as the iron oxide responsible for the red color of the ochres. Fe3+ doublets, which are assignable to superparamagnetic species, more likely including hematite or goethite of very small particles, or the paramagnetic iron in the crystalline structure of aluminosilicates, were also found.
Keywords
Ochre, Iron oxide, Mössbauer spectroscopy, FTIR, EDXRF, Archaeometry.
Cite as
Duarte Cavalcante, L. C., V. H. Gomes Tostes. 2017.
Espécies ferruginosas em pigmentos minerais do sítio arqueológico Pedra do Atlas.
Arqueología Iberoamericana
36: 48-53.
http://purl.org/aia/367
.
Publication date: November 20, 2017.