820 MB •
español
RESEARCH ADVANCE
Underwater Archaeology in Puerto Colombia. Advances on the Prinz August Wilhelm Steamship
Juan Guillermo Martín, José Manuel Espinosa, Eduardo Roa, Elías Blanco,
Julián Blanco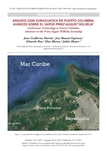 Abstract
This project aims to fill gaps in the incipient development of Colombian underwater archaeology, taking as a case study a threatened context: the wreck of the Prinz August Wilhelm, sunk in 1918. Multiple factors make the steamship vulnerable: its age, which prevents it from being considered an archaeological site under the current Colombian regulations; the marine conditions to which it is subjected, because strong ocean dynamics in the bay of Puerto Colombia accelerate its destruction; and its accessibility, near the coast and at a shallow depth, which facilitates its plunder. This work is an example of inventory and documentation that could be implemented throughout the bay and, more generally, in the waters of the Colombian Caribbean.
Keywords
Underwater archaeology, Puerto Colombia, Prinz August Wilhelm.
Cite as
Martín, J. G., J. M. Espinosa, E. Roa, E. Blanco, J. Blanco. 2017.
Arqueología subacuática en Puerto Colombia. Avances sobre el vapor
Prinz August Wilhelm
.
Arqueología Iberoamericana
36: 60-65.
http://purl.org/aia/369
.
Publication date: November 27, 2017.