114 KB •
español
RESEARCH ADVANCE
Implementing an Index that Weighs the Impact of a Scientific Journal Based on its Early Age
Pascual Izquierdo-Egea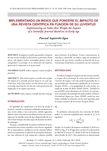 Abstract
This article proposes an index that weights the impact of a scientific journal based on its early age. Until now, only a few indexes consider factors such as age or prestige, ignoring the role that the early age of a journal might play in its impact assessment.
Keywords
Index, impact, scientific journal, early age.
Cite as
Izquierdo-Egea, P. 2018.
Implementando un índice que pondere el impacto de una revista científica en función de su juventud. Arqueología Iberoamericana 37: 31-39.
Other Persistent Identifiers
Publication date: January 30, 2018.