615 KB •
español
RESEARCH ARTICLE
Grinding Stones from Mesoamerica
José R. Rodríguez-Yc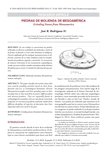 Abstract
This paper classifies the various stones that were used for grinding activities based on their form, function and use, as technological binomials. Ancient Mesoamerican peoples used these grinding stones in their everyday lives as they used them to process different plant and mineral products. They are repeatedly found in archaeological excavations, but are not always extensively analyzed. It is necessary to perform systematic studies from different disciplines of expertise to determine how these important tools were used in the past.
Keywords
Grinding stones; binomials; Mesoamerica; metate; molcajete.
Cite as
Rodríguez-Yc, J. R. 2018.
Piedras de molienda de Mesoamérica.
Arqueología Iberoamericana 37: 53-60.
Other Persistent Identifiers
Publication date: March 6, 2018.