2.96 MB •
español
RESEARCH ARTICLE
The Monuments of Itsimte (Peten, Guatemala): New Data and Interpretations
Dmitri Beliaev, Sergei Vepretskii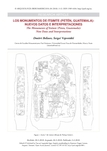 Abstract
During the fieldwork phase of the Epigraphic Atlas of Peten project between 2013 and 2016, the majority of hieroglyphic inscriptions from Itsimte (Department of Peten, Guatemala) were redocumented. Stelae 2, 5 and 7 provided new data on the Itsimte dynasty that was founded ca. 200–220 AD.
Keywords
Maya Lowlands; Peten; Itsimte; monumental sculpture; Mayan epigraphy.
Cite as
Beliaev, D., S. Vepretskii. 2018.
Los monumentos de Itsimte (Petén, Guatemala): nuevos datos e interpretaciones.
Arqueología Iberoamericana
38: 3-13.
http://purl.org/aia/3801
.
Publication date: April 4, 2018.