1.15 MB •
español
RESEARCH ADVANCE
Contribution to the Chronology of the Juan Fugl House (Tandil, Buenos Aires, Argentina) based on Archaeomagnetic Studies
Claudia Gogorza, Julio Fabián Merlo, Juan Morales,
Avto Goguitchaichvili, Catriel Greco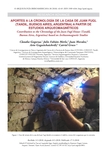 Abstract
The appearance of vestiges of tunnel-like underground constructions and ancient sand quarries in the historic center of the city of Tandil has generated a series of urban myths. These link the foundation of Fuerte Independencia (FI) in 1823, when the city was founded, with the subsequent settlements of "euro-criollos" on the southern border. The cavities are thought to be escape tunnels created because of the risk of "raids" carried out by the Indians. Many of these associations were made by local historians based on the "bravery of the settlers" and the fortuitous finding of underground structures discovered by several workers and residents. The resurgence of this information in the press re-opens the explanatory hypothesis of the tunnels of the FI and their connection to the houses that were first built around the fort. One of these buildings was the home of Juan Fugl, a major pioneer of the city. The objective of this work was to date bricks from the house of Juan Fugl through archaeomagnetic studies in order to establish the chronology of its occupation with that of the FI and provide more accurate evidence of the relationship between this house and the underground constructions mentioned above.
Keywords
Archaeomagnetism; Argentina; Tandil; tunnels; cultural heritage.
Cite as
Gogorza, C., J. F. Merlo, J. Morales, A. Goguitchaichvili, C. Greco. 2018.
Aportes a la cronología de la casa de Juan Fugl (Tandil, Buenos Aires, Argentina) a partir de estudios arqueomagnéticos. Arqueología Iberoamericana 38: 43-49.
Other Persistent Identifiers
Publication date: May 17, 2018.