534 KB •
español
RESEARCH ARTICLE
New Contributions to the Chronology of the Alamito Sites (Andalgalá Department, Catamarca)
María Soledad Gianfrancisco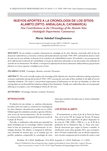 Abstract
This work critically analyzes the chronology of the Alamito sites, based on radiometric dating and pottery seriations undertaken during the period of 1950–1995, assessing the real scope of these methods in the light of current reliability standards. The result is a hierarchical organization of information on the basis of reliability, in which the existing dates are not discarded but valued according to their limitations. Finally, new radiocarbon dates are incorporated, allowing us to propose a new chronological scheme for the area.
Keywords
Chronology; Alamito; seriation; Formative.
Cite as
Gianfrancisco, M. S. 2018.
Nuevos aportes a la cronología de los sitios Alamito (Dpto. Andalgalá, Catamarca).
Arqueología Iberoamericana 39: 3-15.
Other Persistent Identifiers
Publication date: July 11, 2018.