2.22 MB •
español
RESEARCH ARTICLE
The Northern Border of Mesoamerica and the Bolaños Culture
María Teresa Cabrero G.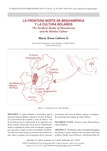 Abstract
The Bolaños culture developed throughout the Bolaños Canyon, located in the north part of the state of Jalisco (Pacific coast of Mexico), with features from the western and northern cultures of Mexico. One of the factors for the colonization of this region was to establish commercial contacts with the geographical area of Chalchihuites, where was exploited the "green stone", considered sacred as it represents water, life and fertility. They established a trade exchange route that allowed them to exchange objects, ideas, and concepts with the members of the caravans coming from central Mexico, who were heading to the turquoise deposits in New Mexico.
Keywords
Northern border; Mesoamerica; Bolaños culture.
Cite as
Cabrero G., M. T. 2018.
La frontera norte de Mesoamérica y la cultura Bolaños.
Arqueología Iberoamericana 39: 16-28.
Other Persistent Identifiers
Publication date: July 20, 2018.