868 KB •
español
RESEARCH ADVANCE
More than 100 Uninterrupted Years of Geomagnetic Record in Mexico: Implications in the Absolute Dating of Some Historic Buildings
Esteban Hernández-Quintero, Avto Goguitchaichvili, Rafael García-Ruiz,
Miguel Cervantes-Solano, Gerardo Cifuentes-Nava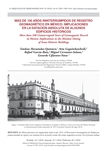 Abstract
In Mexico, the Teoloyucan Geomagnetic Observatory has been operating regularly since 1914, providing an almost continuous record of the secular variation of the Earth's magnetic field. This work offers a synthesis of the geomagnetic record obtained in Mexico for more than one hundred years. With these data, we propose a regional secular variation curve which, given its technical quality, is proposed as an archaeomagnetic dating tool for this time interval.
Keywords
Geomagnetic record; secular variation; archaeomagnetic dating; Mexico.
Cite as
Publication date: July 30, 2018.