2.82 MB •
español
RESEARCH ARTICLE
Nature in the Bolaños Culture with an Emphasis on Animals
María Teresa Cabrero G.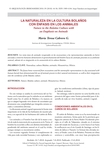 Abstract
The fauna bones recovered from excavations and the zoomorphic representations in clay associated with human burials have demonstrated the use of animals present in their natural environment, as well as their integration into the worldview of the Bolaños culture.
Keywords
Nature; Bolaños culture; animals; Mesoamerica; Mexico.
Cite as
Publication date: August 15, 2018.