295 KB •
español
RESEARCH NOTE
A Statistical Equation to Measure the War Risk in Pre-Hispanic Mesoamerica
Pascual Izquierdo-Egea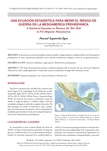 Abstract
This brief communication presents a statistical equation able to measure the war risk in pre-Hispanic Mesoamerica that is fully applicable to many other ancient civilizations through their mortuary record.
Keywords
Statistical equation; war; risk; pre-Hispanic, Mesoamerica.
Cite as
Izquierdo-Egea, P. 2018.
Una ecuación estadística para medir el riesgo de guerra en la Mesoamérica prehispánica.
Arqueología Iberoamericana 39: 67-70.
Other Persistent Identifiers
Publication date: September 28, 2018.