711 KB •
español
RESEARCH ADVANCE
The Cueva de los Hacheros: A Probable Late Pleistocene and Early Holocene Site, Michoacan, Mexico
José Luis Punzo Díaz, Dante Bernardo Martínez Vázquez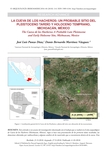 Abstract
This article advances research related to fieldwork that has been conducted at the site of the Cueva de los Hacheros, in Michoacan, Mexico. This paper presents initial data, radiocarbon dates, and some analysis of the materials found in the cave. This preliminary analysis indicates a long history of human occupation at the site, from the Archaic period to the pre-Hispanic period. The paper highlights some elements that may indicate one of the oldest human occupations known within the territory of Mexico.
Keywords
Michoacan archaeology; Archaic; Late Pleistocene; lithics.
Cite as
Punzo Díaz, J. L., D. B. Martínez Vázquez. 2018.
La Cueva de los Hacheros: un probable sitio del Pleistoceno tardío y Holoceno temprano, Michoacán, México. Arqueología Iberoamericana 40: 3-8.
Other Persistent Identifiers
Publication date: October 4, 2018.