780 KB •
español
RESEARCH ADVANCE
Tiñosa Olearia Amphorae in Portugal
Pedro A. Carretero Poblete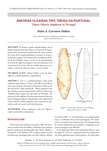 Abstract
This is a multidisciplinary study of the amphorae type known as Tiñosa, and reflects the preliminary research about the earliest productions of olive oil in the area of the Cadiz countryside. Tiñosa amphorae were the containers used to transport olive oil from Cadiz to the Turdetan-Punic region near the Strait of Gibraltar. The presence of such amphorae has been documented in the area of the Portuguese Algarve. Specifically, in the settlement of Castro Marim, Tiñosa amphorae were recovered in association with cult centers and ritual practices.
Keywords
Tiñosa amphorae; olive oil; Algarve; Cadiz countryside; archaeometry.
Cite as
Carretero Poblete, P. A.. 2018.
Ánforas olearias tipo Tiñosa en Portugal. Arqueología Iberoamericana 40: 9-15.
Other Persistent Identifiers
Publication date: October 22, 2018.