4.11 MB •
español
RESEARCH ARTICLE
The Bolaños Culture in the Mezquitic Valley, Jalisco
María Teresa Cabrero G.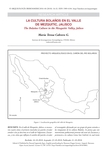 Abstract
In the Mezquitic Valley, Jalisco, four sites were excavated. The first shows a circular pattern similar to those already described in the valley of Valparaiso, Zacatecas. Three sites reflect the change from the circular to the rectangular pattern made by a group who were strangers to members of the Bolaños culture. It is thought that this migration originated west of Zacatecas and belonged to the Loma San Gabriel culture, which had a deep connection with the Chalchihuites culture located in the same area.
Keywords
Bolaños culture; Mezquitic Valley; Jalisco; Mexico.
Cite as
Cabrero G., M. T. 2018.
La cultura Bolaños en el valle de Mezquitic, Jalisco. Arqueología Iberoamericana 40: 16-32.
Other Persistent Identifiers
Publication date: October 31, 2018.