3.05 MB •
español
RESEARCH ARTICLE
Pottery Production and Circulation in Quebrada del Toro during the Formative Period: A View Based on the Petrographic Analysis of Ceramics
María Eugenia De Feo, Lucas Pereyra Domingorena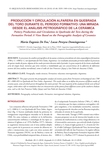 Abstract
This paper presents the petrographic analysis of ceramic pastes from Formative archaeological sites (700 BC–1000 AD) in Quebrada del Toro (Salta, Argentina). The results allow us to define the presence of fifteen modes of ceramic paste, some of which persist throughout the entire period. The vast majority of the analyzed sherds were of local origin, while others refer to modalities that are characteristic of the pottery from different sectors of the southern Andean area, such as the San Francisco Valley (Jujuy) and San Pedro de Atacama (Chile).
Keywords
Petrography; technical modes; Formative; interregional relations; Argentina.
Cite as
De Feo, M. E., L. Pereyra Domingorena. 2018.
Producción y circulación alfarera en Quebrada del Toro durante el periodo Formativo: una mirada desde el análisis petrográfico de la cerámica. Arqueología Iberoamericana 40: 65-80.
Other Persistent Identifiers
Publication date: December 16, 2018.