2.50 MB •
español
RESEARCH ADVANCE
Image Analysis as a Methodological Contribution to the Study of Late Prehistory Painted Pottery: Case Studies from the Southeast of Iberian Peninsula
Alberto Dorado Alejos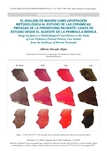 Abstract
The objective of this paper is to methodologically explore the application of image analysis to ceramics belonging to contexts from the Late Prehistory of Iberian Peninsula, an analysis whose results can be applied to other samples from different geographical areas. Traditionally, this kind of technique has been used in the framework of rock art paintings or architectural studies, but its potential has led us to apply it to pottery assemblies in order to provide new information regarding the production processes linked to ceramic decoration. Thereby, I consider that the results that have been obtained can be of great help in defining the painting strokes (e.g. iron oxides, iron hydroxides, etc.) through which the different iconographic motifs were configured. Therefore, the application of this technique has allowed us to define, in a more adjusted way, the decorative motifs found on the surface of the analyzed pottery.
Keywords
DStretch; image analysis; painted pottery; decoration; southeast of Iberian Peninsula.
Cite as
Dorado Alejos, A. 2018.
El análisis de imagen como aportación metodológica al estudio de las cerámicas pintadas de la Prehistoria Reciente: casos de estudio desde el sudeste de la península ibérica.
Arqueología Iberoamericana S2: 9-14.
Other Persistent Identifiers
Publication date: March 7, 2018.