90.3 KB •
español
RESEARCH NOTE
Leslie A. White and the Objective Measurement of Human Culture Change
Pascual Izquierdo-Egea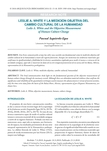 Abstract
This brief communication sheds light on the fundamental question of the objective measurement of human culture change through the mortuary record. Although there are abundant material evidence that confirms the significance and reliability of the quantitative technique used to measure the advancement or retreat of ancient societies, only the time series data from the basin of the Balsas River, Mexico, representative of pre-Hispanic Mesoamerica, are shown here.
Keywords
Leslie A. White; objective measurement; human; culture change.
Cite as
Izquierdo-Egea, P. 2018.
Leslie A. White y la medición objetiva del cambio cultural de la humanidad.
Arqueología Iberoamericana S2: 15-18.
Other Persistent Identifiers
Publication date: March 21, 2018.