536 KB •
español
RESEARCH NOTE
Implementing a More Objective Index to Measure the Relevance and Impact of Scientific Journals
Pascual Izquierdo-Egea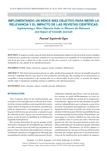 Abstract
This brief communication presents an index capable of measuring the relevance of scientific journals in terms of a completely objective way, based on their production and early age, thus avoiding the use of parameters as susceptible to being manipulated as the citations that are so abused today. In spite of this, to convince the skeptics, another index is introduced, including citations in addition to the referred parameters.
Keywords
Index; relevance; impact; scientific journals; bibliometrics.
Cite as
Izquierdo-Egea, P. 2018.
Implementando un índice más objetivo para medir la relevancia y el impacto de las revistas científicas. Arqueología Iberoamericana S3: 28-34.
Other Persistent Identifiers
Publication date: June 21, 2018.