Vol. 41 (2019), pp. 45–51 •


1.16 MB •
español
RESEARCH ADVANCE
An Iconoclastic Society? New Bovid Terracottas from the Argaric Site of Laderas del Castillo (Callosa de Segura, Alicante, Spain)
Juan Antonio López Padilla, Francisco Javier Jover Maestre, María Pastor Quiles,
Ricardo E. Basso Rial, Sergio Martínez Monleón, Adela Sánchez Lardiés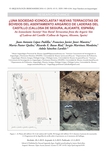 Abstract
We present the discovery of new terracotta figurines of bovids from the Argaric settlement of Laderas del Castillo. Their presence in Bronze Age sites is no longer an anomaly, and allows us to reopen the debate on the iconoclastic character of El Argar and its connection with the Mediterranean world.
Keywords
Bronze Age; El Argar; terracotta; bovids; iconoclastic.
Cite as
López Padilla, J. A., F. J. Jover Maestre, M. Pastor Quiles, R. E. Basso Rial, S. Martínez Monleón, A. Sánchez Lardiés. 2019. ¿Una sociedad iconoclasta? Nuevas terracotas de bóvidos del asentamiento argárico de Laderas del Castillo (Callosa de Segura, Alicante, España).
Arqueología Iberoamericana 41: 45-51.
Other Persistent Identifiers
Publication date: March 12, 2019.