Vol. 42 (2019), pp. 28–41 •


3.48 MB •
español
RESEARCH ARTICLE
Ethnoarchaeology: The Rituality of Sowing on Mountain Ridges and Andean Culture in the South of San Pablo Lake, Otavalo, Ecuador
Francisco Germánico Sánchez Flores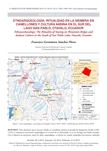 Abstract
To demonstrate that rituals were performed on mountain ridges during the Late Integration Period (1250–1525 AD), archaeological excavations were carried out in the La Rinconada sector to the south of Lake San Pablo, Ecuador. In order to better interpret the archaeological data, an ethnographic study was conducted on the cultural practices surrounding agriculture in the Cayambis and Otavalos communities located on the slopes near the ridges; based on ethnohistorical, archaeological and ethnographic research, it is determined that these communities constitute a continuation of the Caranqui culture, although given that there were social, political and religious transformations caused by the Inca and Spanish conquests. From comparison of the archaeological data with the ethnographic data, it was determined that rituals that were carried out in the fields along the ridges were linked to the sowing of seeds.
Keywords
Caranquis; Otavalos; Cayambis; ridges; ritualities; Andean culture.
Cite as
Sánchez Flores, F. G. 2019. Etnoarqueología: ritualidad en la siembra en camellones y cultura andina en el sur del lago San Pablo, Otavalo, Ecuador. Arqueología Iberoamericana 42: 28-41.
Other Persistent Identifiers
Publication date: June 21, 2019.