Vol. 42 (2019), pp. 42–49 •


747 KB •
español
RESEARCH ADVANCE
Thermoluminiscence vs. Archaeomagnetism: Absolute Dating of Prehispanic Pottery Fragments from the Northwestern Andes (Piedras Blancas, Medellin, Colombia)
Mauricio Obregón, Ángel Ramírez Luna, Avto Goguitchaichvili, Rubén Cejudo,
Juan Morales, Miguel Cervantes-Solano, Catriel Greco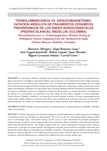 Abstract
Absolute dating by means of archaeomagnetism and thermoluminescence offer important chronological contributions because burned objects are dated directly. This is not true for the most common absolute dating method used in archaeology today, radiocarbon dating. In this survey we have determined the absolute geomagnetic archaeointensity recorded in ceramic fragments from the northwestern Andes (Colombia) which had previously been dated using thermoluminescence. The samples studied consist of a ceramic pot fragment associated with a domestic context and a truncated-cone shaped spindle whorl fragment with thin incised decoration and filled with white paste found at the Piedras Blancas archaeological site (Medellin, Colombia). The age ranges obtained by the archaeomagnetic method are relatively high due to the insufficient precision of the secular variation reference curve for the age interval considered, while thermoluminescence provides better defined and more accurate absolute ages.
Keywords
Absolute dating methods; thermoluminescence; archaeomagnetism; Medellin; Colombia; northwestern Andes.
Cite as
Obregón, M., A. Ramírez Luna, A. Goguitchaichvili, R. Cejudo, J. Morales, M. Cervantes-Solano, C. Greco. 2019. Termoluminiscencia vs. arqueomagnetismo: datación absoluta de fragmentos cerámicos prehispánicos de los Andes noroccidentales (Piedras Blancas, Medellín, Colombia).
Arqueología Iberoamericana 42: 42-49.
Other Persistent Identifiers
Publication date: June 24, 2019.