Vol. 43 (2019), pp. 43–51 •


1.51 MB •
español
RESEARCH ARTICLE
Smokers and Warriors in the Bolaños Culture
María Teresa Cabrero G.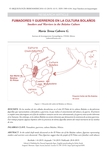 Abstract
In the sealed shaft tombs discovered at the El Piñon site of the Bolaños culture, figurines representing smokers and warriors were discovered. These figurines suggest that the people of El Piñon were familiar with tobacco and war. Tobacco was used as a hallucinogen in order to establish contact with supernatural beings, and war is an inherent action of human being. However, in the Bolaños culture there are no elements that demonstrate the existence of warfare. This work proposes some hypotheses about the presence of these smoker and warrior figurines within the mortuary ritual of the shaft tombs.
Keywords
Smokers; warriors; Bolaños culture; Mexico.
Cite as
Cabrero G., M. T. 2019. Fumadores y guerreros en la cultura Bolaños.
Arqueología Iberoamericana 43: 43-51.
Other Persistent Identifiers
Publication date: August 20, 2019.