Vol. 44 (2019), pp. 22–27 •


1.14 KB •
español
RESEARCH ADVANCE
Architecture and its Cartographic Record in the Quillen Estuary of the Carahue Commune (Former Ciudad Imperial), Araucania, Chile
Francisco Javier Medianero-Soto, José Manuel Zavala Cepeda, Tom Dalton Dillehay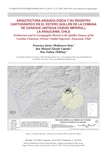 Abstract
The research project, titled "Following the gold route. The inhabitants of Araucania facing the Spanish occupation of the 16th century: reception, adaptation and resistance", hinged on archaeological surveys carried out in southern Chile. This paper presents an interpretation of a structure documented in the Quillen estuary of the Carahue commune. The structure is located on the top of a hill and maintains structural characteristics, layout, dispersion, and internal spatial distribution that resemble those of structures in Santa Sylvia. Finally, its proximity and probable association with the former city of La Imperial (now Carahue) is significant as it may be tied to the gold-mining activities developed in this region as early as the 16th century.
Keywords
Building; gold mining; Carahue.
Cite as
Medianero-Soto, F. J., J. M. Zavala Cepeda, T. D. Dillehay. 2019.
Arquitectura arqueológica y su registro cartográfico en el estero Quillén de la comuna de Carahue (antigua Ciudad Imperial), La Araucanía, Chile. Arqueología Iberoamericana 44: 22-27.
Other Persistent Identifiers
Publication date: October 17, 2019.