Vol. 44 (2019), pp. 39–49 •


1.32 MB •
español
RESEARCH ARTICLE
Some Hypothetical Proposals about Mundane Activities in the Bolaños Culture
María Teresa Cabrero G.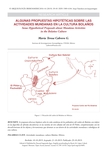 Abstract
Various hypotheses are proposed about the daily life of the inhabitants of the Bolaños canyon with emphasis on the offering figurines discovered in the shaft tombs sealed at the El Piñon site, and complemented with the discoveries of the objects and tools that denote their use within the mundane and ideological activities of this culture.
Keywords
Mundane activities; Bolaños culture; Mexico.
Cite as
Cabrero G., M. T. 2019.
Algunas propuestas hipotéticas sobre las actividades mundanas en la cultura Bolaños.
Arqueología Iberoamericana 44: 39-49.
Other Persistent Identifiers
Publication date: October 29, 2019.