Vol. 44 (2019), pp. 69–79 •


1.64 MB •
español
RESEARCH ARTICLE
Rock Art in the Shelter of San Jeronimo, Zacatecas, Mexico
Juan Ignacio Macías Quintero, Ciprian F. Ardelean, Sthefanie Alejandra López Flores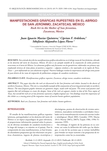 Abstract
This paper describes the rock art discovered in the San Jeronimo rock shelter, located in the deserts of northern Zacatecas, Mexico. This site is a remarkable example of the conjunction of recurring pictorial styles in northern Mexico. The most frequent graphic elements are geometric shapes, made with red paint. The artists used positive and negative flat ink techniques to create the designs. Some of the rock art appears similar to that of the Pecos region of Texas, but overall the rock art at San Jeronimo represents a highly original case. Our findings reveal the importance of this shelter as a crossing point of the migration routes of ancient hunter-gatherer populations.
Keywords
Rock art; Zacatecas; San Jeronimo rock shelter; hunter-gatherers.
Cite as
Macías Quintero, J. I., C. F. Ardelean, S. A. López Flores. 2019.
Manifestaciones gráficas rupestres en el abrigo de San Jerónimo, Zacatecas, México.
Arqueología Iberoamericana 44: 69-79.
Other Persistent Identifiers
Publication date: December 30, 2019.