Vol. 44 (2019), pp. 80–87 •


185 KB •
español
RESEARCH ADVANCE
Thermodynamics and the Archaeology of Social Phenomena
Pascual Izquierdo-Egea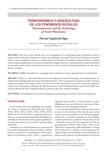 Abstract
There is a close relationship between thermodynamics and the archaeology of social phenomena (or archaeonomy) through Gibbs free energy and linked parameters. This new quantitative approach reveals its enormous utility when applied to the analysis of the Great Recession in the United States of America. It also yields significant results in the case of ancient civilizations through their mortuary record, although obviously current societies offer more accurate information when testing the predictive capacity of these new scientific techniques.
Keywords
Thermodynamics; theoretical archaeology; social phenomena; mortuary record; Great Recession.
Cite as
Izquierdo-Egea, P. 2019.
Termodinámica y arqueología de los fenómenos sociales.
Arqueología Iberoamericana 44: 80-87.
Other Persistent Identifiers
Publication date: December 31, 2019.