Vol. 45 (2020), pp. 22–28 •


1.22 MB •
español
RESEARCH ADVANCE
The Memory of Fire in Pre-Hispanic Yucatan: Archaeomagnetic Intervention of a Lime Kiln from Sitpach, Merida
Luis Pantoja, Rubén Cejudo, Avto Goguitchaichvili, Juan Morales, Soledad Ortiz,
Miguel Cervantes, Francisco Bautista, Rafael García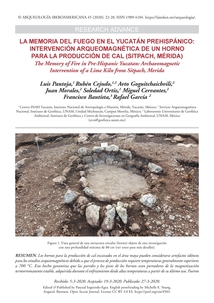 Abstract
Lime kilns excavated in the Mayan area may be considered suitable artifacts for archaeomagnetic studies because the production process generally requires temperatures higher than 700 °C. This fact guarantees that the walls and floors of the furnaces carry the stable thermoremanent magnetization acquired during the cooling from high temperatures during its last use. 12 of a total of 17 samples, collected and oriented in situ inside the furnace located in Sitpach, Merida were thermally demagnetized in order to obtain their characteristic archeodirections (declination and inclination). The site-mean direction was determined based on 7 samples with greater clustering. Archaeomagnetic dating yielded two possible intervals: 267–671 AD and 1279–1455 AD. Based on relative chronological considerations of the area, the second interval seems more feasible. This new absolute chronological contribution, together with those previously reported, indicates the continuity and permanence of pyrotechnological knowledge in the Maya area from 900 to at least 1600 AD, including the beginning of the colonial period, in which some furnaces, probably built before the Spanish conquest, were reactivated.
Keywords
Maya area; Merida; Sitpach; archaeomagnetic dating; pyrotechnological knowledge.
Cite as
Pantoja, L., R. Cejudo, A. Goguitchaichvili, J. Morales, S. Ortiz, M. Cervantes, F. Bautista, R. García. 2020. La memoria del fuego en el Yucatán prehispánico: intervención arqueomagnética de un horno para la producción de cal (Sitpach, Mérida). Arqueología Iberoamericana 45: 22-28.
Other Persistent Identifiers
Publication date: March 27, 2020.