Vol. 45 (2020), pp. 29–34 •


134 KB •
español
RESEARCH ADVANCE
On the Law of Conflict in the Archaeology of Social Phenomena
Pascual Izquierdo-Egea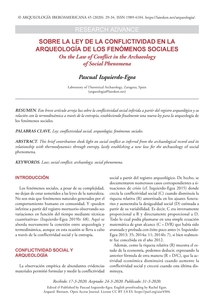 Abstract
This brief contribution sheds light on social conflict as inferred from the archaeological record and its relationship with thermodynamics through entropy, lastly establishing a new law for the archaeology of social phenomena.
Keywords
Law; social conflict; archaeology; social phenomena.
Cite as
Izquierdo-Egea, P. 2020.
Sobre la ley de la conflictividad en la arqueología de los fenómenos sociales.
Arqueología Iberoamericana 45: 29-34.
Other Persistent Identifiers
Publication date: March 31, 2020.