Vol. 45 (2020), pp. 35–42 •


4.65 MB •
español
RESEARCH ADVANCE
Archaeological Survey Based on Satellite Images: The Case of the Northern Area of the Caranqui Country (Imbabura, Ecuador)
Carlos E. Montalvo Puente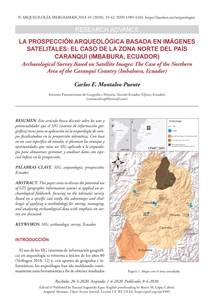 Abstract
This paper aims to discuss the potential use of GIS (geographic information system) as applied on archaeological fieldwork, focusing on the telematic survey. Based on a specific case study, the advantages and challenges of applying a methodology for storing, managing, and analyzing archaeological data with emphasis on survey are discussed.
Keywords
SIG; archaeology; survey; Ecuador.
Cite as
Montalvo Puente, C. E. 2020.
La prospección arqueológica basada en imágenes satelitales: el caso de la zona norte del país caranqui (Imbabura, Ecuador). Arqueología Iberoamericana 45: 35-42.
Other Persistent Identifiers
Publication date: April 8, 2020.