Vol. 45 (2020), pp. 55–63 •


2.74 MB •
español
RESEARCH ADVANCE
Medieval Archaeology in Northeast Morocco: Main Results of the Archaeological and Documentary Study in the Eastern Rif
Yaiza Hernández Casas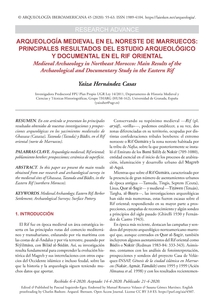 Abstract
In this paper we present the main results obtained from our research and archaeological surveys in the medieval sites of Ghassasa, Tazouda and Bādīs, in the Eastern Rif (northern Morocco).
Keywords
Medieval Archaeology; Eastern Rif; Berber Settlement; Archaeological Surveys; Surface Pottery.
Cite as
Hernández Casas, Y. 2020.
Arqueología medieval en el noreste de Marruecos: principales resultados del estudio arqueológico y documental en el Rif oriental. Arqueología Iberoamericana 45: 55-63.
Other Persistent Identifiers
Publication date: April 21, 2020.