Vol. 45 (2020), pp. 93–100 •


1.90 MB •
português
RESEARCH ARTICLE
Rupestrian Art and Conservation Problems from the Caminho da Caiçara II Archaeological Site
Luis Carlos Duarte Cavalcante, Andrews Araújo Rodrigues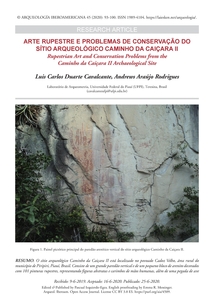 Abstract
The Caminho da Caiçara II archaeological site is located in the Cadoz Velho village, rural area of the municipality of Piripiri, Piauí, Brazil. The site consists of a large vertical wall and a small sandstone block decorated with 101 rupestrian paintings, representing abstract figures and human handprints, aside from a bird print and a spear-thrower. These images are predominantly in different red tones, with some yellow, and recurring motifs. There are rupestrian engravings representing cupules, and paintings with overlapping engravings. The archaeological site's conservation is impacted by the degradation of the sandstone, thick saline efflorescence and rainwater infiltration, as well as insect nests, termites, wasps, and bees.
Keywords
Rupestrian paintings; rupestrian engravings; conservation; archaeological heritage.
Cite as
Cavalcante, L. C. D., A. A. Rodrigues. 2020.
Arte rupestre e problemas de conservação do sítio arqueológico Caminho da Caiçara II.
Arqueología Iberoamericana 45: 93-100.
Other Persistent Identifiers
Publication date: June 25, 2020.