Vol. 46 (2020), pp. 31–33 •


759 KB •
español
RESEARCH NOTE
Possible Use of a Bone Artifact from Tomb 2 of Structure 23 in Yaxchilan, Mexico
Alla Kolpakova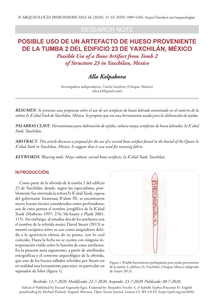 Abstract
This article discusses a proposal for the use of a carved bone artifact found in the burial of the Queen Ix K'abal Xook in Yaxchilan, Mexico. It suggests that it was used for weaving fabric.
Keywords
Weaving tools; Maya culture; carved bone artifacts; Ix K'abal Xook; Yaxchilan.
Cite as
Kolpakova, A. 2020.
Posible uso de un artefacto de hueso proveniente de la tumba 2 del edificio 23 de Yaxchilán, México. Arqueología Iberoamericana 46: 31-33.
Other Persistent Identifiers
Publication date: July 30, 2020.