Vol. 46 (2020), pp. 45–53 •


885 KB •
español
RESEARCH ARTICLE
Archaeological Landscape and Settlement Pattern in the Bolaños Culture
María Teresa Cabrero G.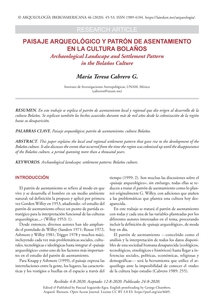 Abstract
This paper explains the local and regional settlement pattern that gave rise to the development of the Bolaños culture. It also discusses the events that occurred from the time the region was colonized up until the disappearance of the Bolaños culture, a period spanning more than a thousand years.
Keywords
Archaeological landscape; settlement pattern; Bolaños culture.
Cite as
Cabrero G., M. T. 2020.
Paisaje arqueológico y patrón de asentamiento en la cultura Bolaños.
Arqueología Iberoamericana 46: 45-53.
Other Persistent Identifiers
Publication date: August 24, 2020.