Vol. 46 (2020), pp. 54–63 •


2.04 MB •
español
RESEARCH ARTICLE
Settlement Pattern and Hypothetical Reconstruction of the One-Room House in the Bolaños Culture
María Teresa Cabrero G.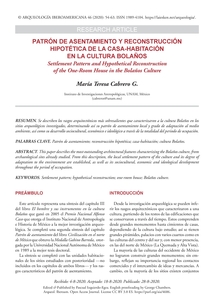 Abstract
This paper describes the most outstanding architectural features characterizing the Bolaños culture, from archaeological sites already studied. From this description, the local settlement pattern of the culture and its degree of adaptation to the environment are established, as well as its sociocultural, economic and ideological development throughout the period of occupation.
Keywords
Settlement pattern; hypothetical reconstruction; one-room house; Bolaños culture.
Cite as
Cabrero G., M. T. 2020.
Patrón de asentamiento y reconstrucción hipotética de la casa-habitación en la cultura Bolaños. Arqueología Iberoamericana 46: 54-63.
Other Persistent Identifiers
Publication date: August 28, 2020.