Vol. 46 (2020), pp. 64–71 •


1.41 MB •
español
RESEARCH ADVANCE
Archaeomagnetic Study of the Ocomo Palace Archaeological Site (Northwestern Mesoamerica): Evidence of its Abandonment in the Postclassic
Juan Morales, Sean Montgomery Smith Márquez, Avto Goguitchaichvili,
Efraín Cárdenas García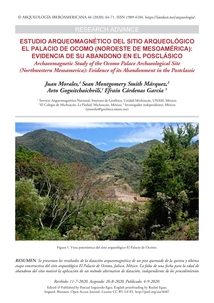 Abstract
In this study, we present the results of archaeomagnetic dating analysis of a burned floor from the fifth and last construction stage of the Ocomo Palace archaeological site, Jalisco, Mexico. The lack of a date for the age of the abandonment of the site motivated us to apply archaeomagnetism, an alternative method of dating, independent of the traditional procedures. The results indicate that the most likely date for the last exposure to fire of the analyzed floor is the interval of 759–915 cal AD (95% probability), which is quite consistent with the available archaeological evidence for the Ocomo Palace site, and which restricts the wide chronology of this site to the Epiclassic period.
Keywords
Archaeomagnetism; Ocomo Palace; Mesoamerica; Postclassic.
Cite as
Morales, J., S. M. Smith Márquez, A. Goguitchaichvili, E. Cárdenas García. 2020.
Estudio arqueomagnético del sitio arqueológico El Palacio de Ocomo (noroeste de Mesoamérica): evidencia de su abandono en el Posclásico. Arqueología Iberoamericana 46: 64-71.
Other Persistent Identifiers
Publication date: September 4, 2020.