Vol. 46 (2020), pp. 84–97 •


1.38 MB •
español
RESEARCH ARTICLE
Pre-Hispanic Gastronomy: First Evidence of Steam Cooking in the Early Pottery Period of the Central Coast of Chile
José Miguel Ramírez-Aliaga, Valeria Araya, Carola Flores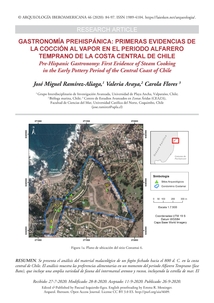 Abstract
This paper discusses the faunal assemblage found in a cooking pit from the Early Pottery period in central Chile (Bato phase, ca. 800 AD). The analysis shows the consumption of a wide variety of fauna from the sandy and rocky intertidal zones, including starfish. The taphonomic analysis of this finding suggests that it is the first pre-Hispanic steam oven located in the central zone of Chile.
Keywords
Archaeomalacology; central coast of Chile; Early Pottery period; steam cooking.
Cite as
Ramírez-Aliaga, J. M., V. Araya, C. Flores. 2020.
Gastronomía prehispánica: primeras evidencias de la cocción al vapor en el periodo Alfarero Temprano de la costa central de Chile. Arqueología Iberoamericana 46: 84-97.
Other Persistent Identifiers
Publication date: September 26, 2020.