Vol. 46 (2020), pp. 98–110 •


1.64 MB •
español
RESEARCH ARTICLE
Mortuary Customs in Northwest Mesoamerica
María Teresa Cabrero G.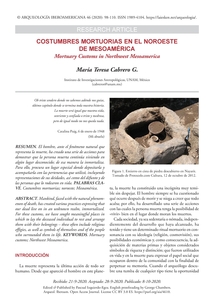 Abstract
Mankind, faced with the natural phenomenon of death, has created various practices expressing that our dead live on in an unknown realm, immortalized. For these customs, we have sought meaningful places in which to lay the deceased individual to rest and arrange them with their belongings – these often include religious effigies, as well as symbols of themselves and of the people who surrounded them in life.
Keywords
Mortuary customs; Northwest Mesoamerica.
Cite as
Cabrero G., M. T. 2020.
Costumbres mortuorias en el noroeste de Mesoamérica.
Arqueología Iberoamericana 46: 98-110.
Other Persistent Identifiers
Publication date: October 8, 2020.