Vol. 46 (2020), pp. 133–140 •


5.82 MB •
español
RESEARCH ADVANCE
Study of the Mortars of the Cisterns "a Bagnarola" from Cerro de la Cruz (Almedinilla, Cordoba, Spain)
Manuel Abelleira Durán, Alberto Dorado Alejos, Andrés M.ª Adroher Auroux,
José Miguel Osuna Cervantes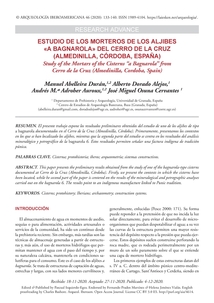 Abstract
This paper presents the preliminary results obtained from the study of one of the bagnarola-type cisterns documented at Cerro de la Cruz (Almedinilla, Córdoba). Firstly, we present the contexts in which the cisterns have been located, while he second part of the paper is centered on the results of the mineralogical and petrographic analyses carried out on the bagnarola 6. The results point to an indigenous manufacture linked to Punic tradition.
Keywords
Cisterns; protohistory; Iberians; archaeometry; construction systems.
Cite as
Abelleira Durán, M., A. Dorado Alejos, A. M. Adroher Auroux, J. M. Osuna Cervantes. 2020.
Estudio de los morteros de los aljibes «a bagnarola» del Cerro de la Cruz (Almedinilla, Córdoba, España). Arqueología Iberoamericana 46: 133-140.
Other Persistent Identifiers
Publication date: December 4, 2020.