Vol. 47 (2021), pp. 26–30 •


632 KB •
español
RESEARCH NOTE
A Roman Altar Found at Zufre, Huelva
Diego Romero Vera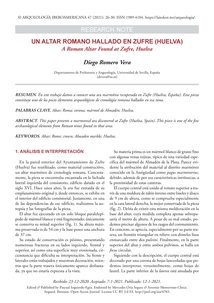 Abstract
This paper presents a marmoreal ara discovered at Zufre (Huelva, Spain). This piece is one of the few archaeological elements from Roman times found in that area.
Keywords
Altar; Rome; crown; Almaden marble; Huelva.
Cite as
Romero Vera, D.
2021.
Un altar romano hallado en Zufre (Huelva).
Arqueología Iberoamericana
47: 26-30.
Other Persistent Identifiers
Publication date: January 12, 2021.