Vol. 47 (2021), pp. 53–62 •


1.31 MB •
español
RESEARCH ARTICLE
Tamanche, Yucatan, through the Archaeometric Analysis of its Lime Kilns
Soledad Ortiz-Ruiz, O. G. de Lucio, Avto Goguitchaichvili, Juan Morales,
Dalia Paz Rivera, Ángel Góngora Salas, Miguel Cervantes, Rubén Cejudo,
Francisco Bautista, Luis Barba Pingarrón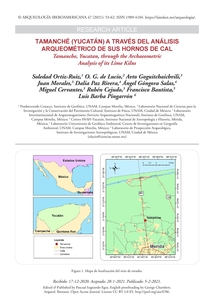 Abstract
Archaeological investigations carried out in the western sector of the Tamanche police station (north of Merida, Yucatan) have provided us with samples for the archaeomagnetic dating of two lime kilns excavated at the site. The furnaces were found on the periphery of the archaeological site, which lies southwest of the center of Tamanche. The archaeological contexts are located in a space of multiple occupations with evidence of pre-Hispanic and historical constructions. In this paper we present the results of the dating and analysis of the samples recovered, which have allowed us to ascertain the temperature reached by the kilns when they were used in lime production, as well as to date the most recent instance of burning that took place inside them. The dating results indicate a process of reuse of the kilns from the Late Classic to the historical period, where calcination temperatures reached an average of 800 °C. Both sets of data allow us to correlate the Tamanche kilns with the other furnaces analyzed as part of the Northern Ichkaantijoo Archaeological Project.
Keywords
Mayan area; lime kilns; archaeomagnetism; Tamanche; northern Ichkaantijoo.
Cite as
Ortiz-Ruiz, S.; O. G. de Lucio; A. Goguitchaichvili; J. Morales; D. Paz Rivera; A. Góngora Salas; M. Cervantes; R. Cejudo; F. Bautista; L. Barba Pingarrón.
2021. Tamanché (Yucatán) a través del análisis arqueométrico de sus hornos de cal.
Arqueología Iberoamericana
47: 53-62.
Other Persistent Identifiers
Publication date: February 5, 2021.