Vol. 47 (2021), pp. 63–70 •


2.64 MB •
español
RESEARCH ADVANCE
Use and Function of Lithic Materials from the Antioquia Region, Colombia
Patricia Pérez-Martínez, Paris Ferrand Alcaraz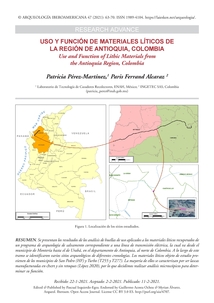 Abstract
This paper presents the results of the use-wear analyses applied to lithic materials recovered from a salvage archaeology program corresponding to a power transmission line, which runs from Monteria to Uraba, in the Department of Antioquia, northern Colombia. Along this stretch, several archaeological sites of different chronologies were identified. The lithic materials under study come from the municipalities of San Pedro (HF) and Turbo (T255 and T277). Most of them are characterized by being chert manufactured flakes without retouch (Lopez 2020), so it was decided to perform microscopic analyses to determine their function.
Keywords
Use-wear analysis; lithics; experimental archaeology; Colombia.
Cite as
Pérez-Martínez, P.; P. Ferrand Alcaraz.
2021.
Uso y función de materiales líticos de la región de Antioquia, Colombia.
Arqueología Iberoamericana
47: 63-70.
Other Persistent Identifiers
Publication date: February 11, 2021.