Vol. 47 (2021), pp. 78–90 •


887 KB •
español
RESEARCH ARTICLE
Palaeoenvironmental History of the Gredos Range (Spanish Central System, Avila) in Visigothic Times: The Impact of the Justinianic Plague (AD 541–543)
Reyes Luelmo-Lautenschlaeger, Adam Izdebski, Antonio Blanco-González,
Sebastián Pérez-Díaz, José Antonio López-Sáez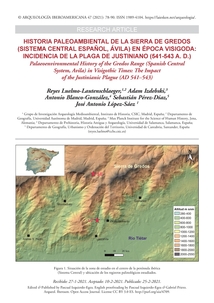 Abstract
This paper evaluates the possible impact of the early medieval pandemic known as the "Justinianic plague" as one of the factors that shaped the mountain ecosystems in the Spanish Central System of the Iberian Peninsula. For this purpose, we focus on two high-resolution, radiocarbon-dated natural pollen records from the Gredos Range (Avila). These cores frame the information they offer within the general picture of the socio-political and environmental transformations of Late Antiquity. Along these three centuries, between c. AD 400 and AD 720, the palynological sequence allows us to recognize eight short phases (on a ten-year and even five-year scale) through which the forest formations traversed. This analysis has made it possible to identify olive and chestnut tree arboriculture since the beginning of the studied interval, as well as to characterize the fluctuation in the thinning processes of the high montane pine forests, due to slash-and-burn practices to open pastures, especially from the permanent occupation of the piedmont in Visigothic times (c. AD 450). The sequence also shows a significant decrease in the anthropic signal during a short period (c. AD 540-545) that can be disassociated from the early effects of the Late Antique Little Ice Age (c. AD 450-660) and which is possibly more related to the plague, as evidenced by the subsequent recovery of anthropic pressure on the pine forest and the extension of the olive and chestnut grove in the 6th and 7th centuries AD.
Keywords
Justinianic plague; palynology; Early Middle Ages; Iberian Central System; Visigoths.
Cite as
Luelmo-Lautenschlaeger, R.; A. Izdebski; A. Blanco-González; S. Pérez-Díaz; J. A. López-Sáez.
2021. Historia paleoambiental de la Sierra de Gredos (Sistema Central español, Ávila) en época visigoda: incidencia de la plaga de Justiniano (541-543 A. D.).
Arqueología Iberoamericana
47: 78-90.
Other Persistent Identifiers
Publication date: February 25, 2021.