Vol. 47 (2021), pp. 91–101 •


2.03 MB •
español
RESEARCH ARTICLE
The "Phaqchas" from Chachabamba (Machu Picchu Archaeological National Park, Peru)
Dominika Sieczkowska, José M. Bastante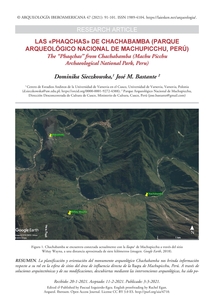 Abstract
The planning and orientation of the Chachabamba archaeological monument provides us with information regarding its role in the circle of sites in the sphere of direct influence of Machu Picchu llaqta, Peru. Through the architectural innovations and their modifications, discovered due to archaeological operations, it has been possible to achieve a better understanding of its function and answer some additional questions. Based on the study of the hydraulic system of the monument, unique in the Inca world, it was possible to reach conclusions regarding its potential role in Chachabamba as well as in the other monuments of the Historic Sanctuary-National Archaeological Park of Machu Picchu.
Keywords
Archaeology; Inca; water; phaqcha; sources; armakuna; Chachabamba; Machu Picchu.
Cite as
Sieczkowska, D.; J. M. Bastante.
2021.
Las «phaqchas» de Chachabamba (Parque Arqueológico Nacional de Machupicchu, Perú).
Arqueología Iberoamericana
47: 91-101.
Other Persistent Identifiers
Publication date: March 3, 2021.