Vol. 47 (2021), pp. 102–114 •


2.17 MB •
español
RESEARCH ARTICLE
Cerro Colotlán: Last Settlement of the Tepecano Ethnic Group
María Teresa Cabrero G.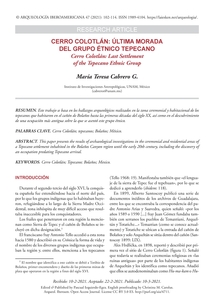 Abstract
This paper presents the results of archaeological investigations in the ceremonial and residential areas of a Tepecano settlement inhabited in the Bolaños Canyon region until the early 20th century, including the discovery of an occupation predating Tepecano arrival.
Keywords
Cerro Colotlán; Tepecano; Bolaños; Mexico.
Cite as
Cabrero G., M. T.
2021.
Cerro Colotlán: última morada del grupo étnico tepecano.
Arqueología Iberoamericana
47: 102-114.
Other Persistent Identifiers
Publication date: March 10, 2021.