Vol. 47 (2021), pp. 128–135 •


2.06 MB •
español
RESEARCH ADVANCE
Stratigraphic Delimitation of Pre-Hispanic Tolas in Llallas Llacta (San Luis, Ecuador) Using Unmanned Aerial Vehicles (UAV) and Electrical Resistivity
Mauro Jiménez-Granizo, Benito Mendoza-Trujillo, Pedro A. Carretero-Poblete,
Erika Andino-Peñafiel, Jessica P. Paca-Paca, Marco S. Mayorga-López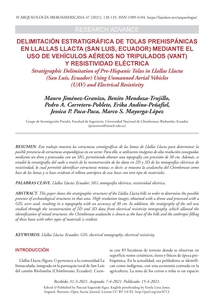 Abstract
This paper shows the stratigraphic structures of the Llallas Llacta hills in order to determine the possible presence of archaeological structures in that area. High resolution images, obtained with a drone and processed with a GIS, were used, resulting in a topography with an accuracy of 30 cm. In addition, the stratigraphy of the soil was studied through the reconstruction of 2D and 3D data from electrical resistivity tomography, which allowed the identification of mixed structures: the Chimborazo avalanche is shown as the base of the hills and the anthropic filling of these bases with other types of materials is evident.
Keywords
Llallas Llacta; Ecuador; GIS; electrical tomography; electrical resistivity.
Cite as
Jiménez-Granizo, M.; B. Mendoza-Trujillo; P. A. Carretero-Poblete; E. Andino-Peñafiel; J. P. Paca-Paca; M. S. Mayorga-López.
2021. Delimitación estratigráfica de tolas prehispánicas en Llallas Llacta (San Luis, Ecuador) mediante el uso de vehículos aéreos no tripulados (VANT) y resistividad eléctrica.
Arqueología Iberoamericana
47: 128-135.
Other Persistent Identifiers
Publication date: April 15, 2021.