Vol. 47 (2021), pp. 136–144 •


1.16 MB •
español
RESEARCH ARTICLE
Mining in the Bolaños Canyon: History, Religion and Society
María Teresa Cabrero G.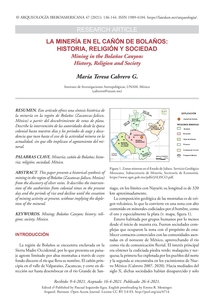 Abstract
This paper presents a historical synthesis of mining in the region of Bolaños (Zacatecas-Jalisco, Mexico) from the discovery of silver veins. It describes the intervention of the authorities from colonial times to the present day and the periods of rise and decline until the cessation of mining activity at present, without implying the depletion of the mineral.
Keywords
Mining; Bolaños Canyon; history; religion; society; Mexico.
Cite as
Cabrero G., M. T.
2021.
La minería en el cañón de Bolaños: historia, religión y sociedad.
Arqueología Iberoamericana
47: 136-144.
Other Persistent Identifiers
Publication date: April 26, 2021.